Presented by University Hospitals Ear, Nose & Throat Institute
Sponsored by Case Western Reserve University School of Medicine
Friday, June 2, 2023
Tinkham Veale | 11038 Bellflower Rd | Cleveland, Ohio 44106
After attending this program, participants will be able to:
Describe new advances in the treatment of OSA including hypoglossal nerve stimulation and pharyngoplasty techniques.
To describe how an updated conceptualization of validity can improve our measures of patient-reported outcomes and assessments in medical and surgical education.
Correctly identify appropriate cochlear implant candidates given changing indications at the federal level.
Discuss different surgical approaches for management of osseous facial trauma.
Identify an appropriate differential diagnosis for a patient with dysphagia and order appropriate further work up.
Utilize a treatment algorithm for management of vestibular schwannoma Differentiate between the best management strategy for a given patient regarding medical or surgical management of obstructive sleep apnea.
Explain the benefits of Combined HIF1alpha and PD-1 blockade in stimulating tumor infiltrating lymphocytes to suppress HPV- HNSCC. Describe the role of adrenergic hormones in the pathophysiology of Meniere disease.
Explain the process of using a High-throughput chemical library screen to identify MYB inhibitors for adenoid cystic carcinoma to identify possible gene/therapeutic targets.
Program Agenda
7:30 am | Breakfast
7:45 am| Welcome
Nicole Maronian, MD, FACS 
7:55 am | Introduction to the Morning Program
Kumar Alagramam, PhD 
HEARING RESEARCH: 
8:00 am | TMC Dependence in the Crista
Brian McDermott, PhD
8:10 am | Signaling Pathways in the Development of Inner Ear
Martin Basch, PhD 
8:20 am | Evaluating Efficacy of the Mitochondrial Protector Elamipretide in a Murine Model of Noise-Induced Hearing Loss 
Ruben Stepanyan, PhD 
8:30 am | Understanding the Role of Adrenergic Hormones in Meniere's Disease
Justine Renauld, PhD 
8:40 am | Q&A
HEAD AND NECK CANCER RESEARCH:
8:55 am | Characterizing Omics Profiles and Pain Phenotype in Head and Neck Cancer
Monica Wagner, PhD, RN   
9:05 am|  RCT Update: Building Family Caregiver Skills
Susan Mazanec, PhD, RN 
9:15 am | Combined HIF1alpha and PD-1 blockade stimulates tumor infiltrating lymphocytes to suppress HPV- HNSCC
Wendi O'Neill, DDS, MS 
9:25 am| High-throughput Chemical Library Screen to Identify MYB Inhibitors for Adenoid Cystic Carcinoma
Quintin Pan, PhD 
9:35 am | Q&A
9:55 am | BREAK - Visit with sponsors, review posters
LARYNGOLOGY RESEARCH:
10:15 am | Contemporary Validity Theory: Implications for Clinical Outcomes and Educational Assessments
Nina Zhao, MD 
SLEEP RESEARCH:
10:30 am | Chemogenetic approach to treat Obstructive Sleep Apnea
Thomaz Fleury-Curado, MD, PhD 
OTOLOGY RESEARCH:
10:45 am | Optimization of Value in Cochlear Implantation
Alejandro Rivas-Campo, MD 
FACIAL PLASTICS RESEARCH:
11:00 am | Gender Affirming Surgery: New Frontiers
Cyrus Rabbani, MD 
Dr. James E. Arnold Lecture Series 
11:15 am | Speaker Introduction
Sarah Mowry, MD, FACS
Precision Surgery: The Next Leap Forward for our Patients
Maie St. John, MD, PhD, FACS  
12:15 pm | LUNCH - Visit with sponsors, review posters
CWRU/UH ENT Alumni Lecture Series
1:00 pm | Speaker Introduction
Sarah Mowry, MD, FACS 
Surgical Advances in the Treatment of OSA
Ryan Nord, MD | Class of 2016                
CASE BASED LEARNING
1:45 pm| Sleep Medicine Panel
Moderator: Thomaz Fleury-Curado, MD
Panelists: Ryan Nord, MD; Jonathan Baskin, MD; N. Scott Howard, MD; Susheel Patil, MD 
2:15 pm| Dysphagia Panel
Panel Moderator: N. Scott Howard, MD 
Panelists: Nina Zhao, MD; Maie St. John, MD; Mark Weidenbecher, MD; Tracey Newman, MA, CCC-SLP  
2:45 pm | Break - Visit sponsors and review posters 
3:00 pm| Facial Trauma Panel
Panel Moderator: Cyrus Rabbani, MD
Panelists: David Ludlow, MD; Maie St. John, MD; Nicole Fowler, MD
3:30 pm | Otology Panel
Moderator: Sarah Mowry, MD
Panelists: Alejandro Rivas, M; Maroun Semaan, MD; Daniel Killeen, MD
4:00 pm | Resident Research Project Highlights Session 
4:15 pm | Closing Remarks
Sarah Mowry, MD FACS & Nicole Maronian, MD, FACS
4:30 pm| Adjourn
Evaluation and CME Credit Certificate
CONTINUING EDUCATION
Physicians
Category 1 Case Western Reserve University School of Medicine is accredited by the Accreditation Council for Continuing Medical Education to provide continuing medical education for physicians.
Case Western Reserve University School of Medicine designates this live activity for a maximum of 6.5 AMA PRA Category 1 CreditsTM. Physicians should claim only the credit commensurate with the extent of their participation in the activity.
Nurses and Physician Assistants
Non-physician attendance credit is provided to non-physicians who participate in activities that were designated for AMA PRA Category 1 Credit(s)TM.  The American Nurses Credentialing Center (ANCC) and the American Academy of Physician Assistants (AAPA) accept certificates of participation for educational activities certified for AMA PRA Category 1 Credit(s)TM from organizations accredited by the Accreditation Council for Continuing Medical Education or a recognized state medical society. It is suggested that learners check with their state licensing board to ensure it accepts reciprocity with AMA PRA Category 1 Credit™ for re-licensure.
Conference Evaluation and CME Credit Claim Instructions:
Step 1: Go to https://www.surveymonkey.com/create/?sm=w4JA9OtNyEpY7q27HC0Gdz33o24WNi5u3wGWb4qhC8I_3D - be sure to record the credit claim number (Activity ID) at the end of the evaluation.
Step 2: Go to https://cwru.cloud-cme.com
Step 3: Click "Sign In" on the top left, and sign in using your email address and password.
Step 4: Click the "My CME" button on the top right-hand side of the screen.
Step 5: Click the "Claim Credit" button.
Step 6: Enter the Event ID you recorded after completing your evaluation and click the "Submit ID" button.
Step 7: Complete any additional questions or fields.
Step 8: Once your credits are recorded, you will then be taken back to My CME. Go to Evaluations & Certificates. Your certificate will be there and available for printing.
You have 7 days to claim credit via the mobile app; 30 days via desktop. For step by step instructions, click here:  https://bit.ly/CMECreditClaimInstructions
For Further Information Contact the CWRU CME OFFICE:
10524 Euclid Avenue
Cleveland, OH 44106-6026
Tel: 216-983-1239  
Fax: 216-844-8133
Email: medcme@case.edu https://cwru.cloud-cme.com
Dr. James E. Arnold Lecture Series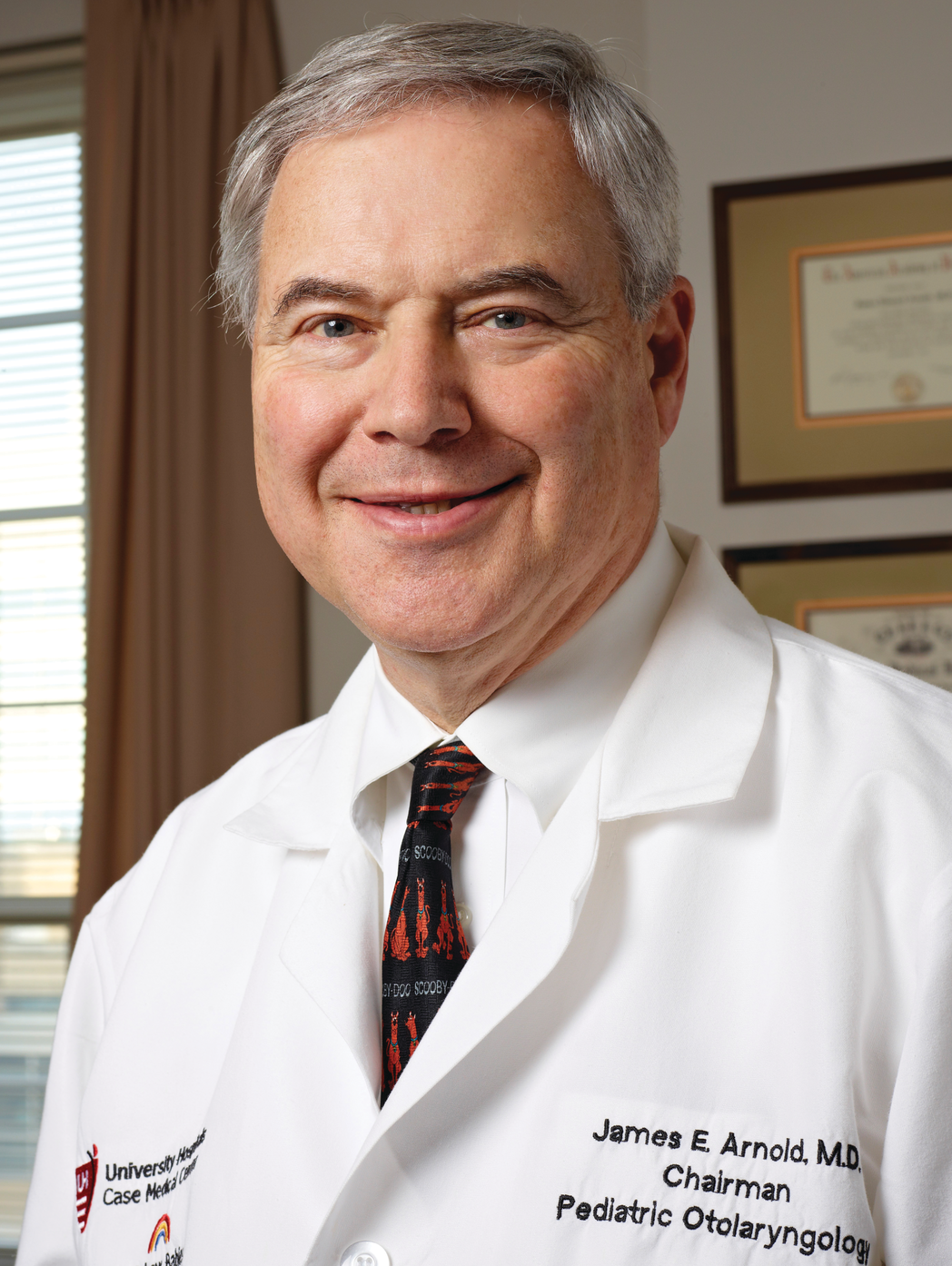 James Arnold, MD FACS  Professor Emeritus
The Ear Nose and Throat Institute at University Hospitals Cleveland Medical Center is proud to present the endowed James E Arnold MD lectureship as part of our annual ENT symposium named in honor of his lasting contributions to our field of and enduring impact on the Department of Otolaryngology-Head and Neck surgery.  
As an internationally renowned pediatric otolaryngologist, Dr. Arnold was recognized for his unwavering commitment to excellence in ENT care at University Hospitals where he was a member of the Department from its inception in 1987 to his retirement in 2017.  He served as Division Director of Pediatric Otolaryngology, Program Director and Department Chairman.  During that time, he was instrumental in the growth of his department, faculty recruitment, and in the education and training of innumerable students and residents. As an exemplary teacher, an astute clinician and a trusted colleague and friend, we are proud to recognize him for his contributions through this annual keynote lecture series.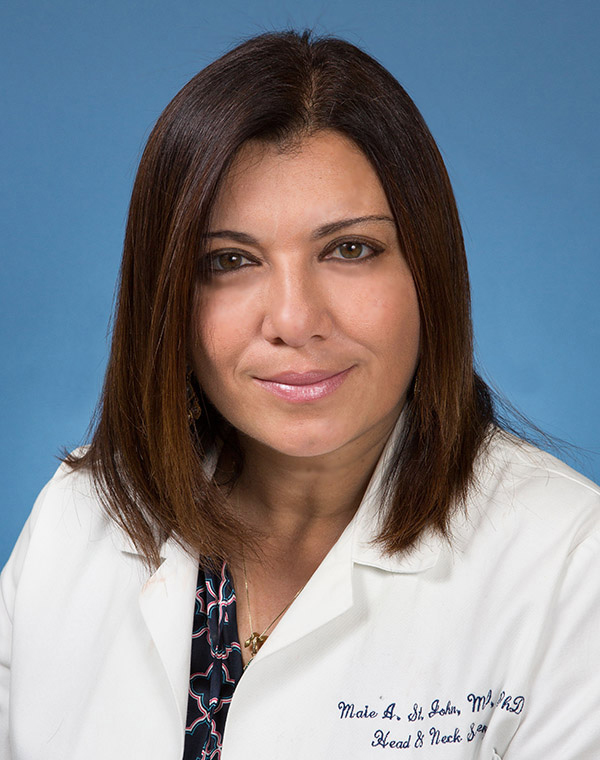 Maie A. St. John, MD, PhD, FACS
Professor and Chair, Department of Head & Neck Surgery
Thomas C. Calcaterra Chair in Head and Neck Surgery
Co-Director, UCLA Head and Neck Cancer Program
Jonsson Comprehensive Cancer Center
David Geffen School of Medicine at UCLA
A highly renowned surgeon, scientist and educator, Dr. St. John is Professor and the Chair of Department of Head and Neck Surgery and Professor of Bioengineering at UCLA. She also holds the Thomas C. Calcaterra, M.D., Chair in Head and Neck Surgery and is Co-Director of the UCLA Head and Neck Cancer Program. Dr. St. John's laboratory studies the mechanisms of tumor progression and metastasis in head and neck cancer and seeks to identify and study novel genes and pathways for future targeted therapies, while actively incorporating the results of their laboratory-based research into the development of novel therapeutics.  Her extramurally-funded research portfolio includes multiple NIH grants bridging basic science with clinical research and service. Dr. St. John is an outstanding educator who has provided mentorship to numerous trainees, and serves as a member of several prestigious organizations including the Executive Council of the American Head and Neck Society, the Triological Society, American Academy of Otolaryngology-Head & Neck Surgery, American College of Surgeons Board of Governors Advisory Council, American Laryngological Association, and Collegium Oto-Rhino- Laryngologicum Amicitiae Sacrum. She is a senior examiner for the American Board of Otolaryngology and a reviewer for the American Academy of Otolaryngology/Head and Neck Surgery CORE grants, and NIH/NIDCR, NCI and NIBIB study sections.  She has been the recipient of multiple awards for teaching and research.
Dr. St. John received her B.S. from Stanford University and M.D. and Ph.D. degrees from Yale University. She completed residency and postdoctoral training at UCLA and served previously as Chief of Head and Neck Surgery at Harbor-UCLA Medical Center.
Dr. St. John's clinical expertise is in intraoperative tumor margin delineation in the resection and treatment of head and neck cancers to allow for precision surgery. Her laboratory research is translational with a focus on improving therapies and outcomes for patients with head and neck cancer. Her efforts have helped in the development of strong interdepartmental research programs in Head & Neck Surgery and Bioengineering. This work has led to clinical trials and patent applications, and has been consistently funded by the NIH, charitable foundations, and industry.
In addition to maintaining a busy surgical practice, Dr. St. John is active in clinical research and is closely involved in training young physician-scientists in her role as Executive Director of Cancer Research and Education at the Jonsson Comprehensive Cancer Center. She is a prolific author in head and neck medicine and a sought-after lecturer both nationally and internationally. Dr. St. John has a deep passion for International collaboration in clinical care, research and education and has set up partnerships in Central America, India, China and the Middle East.  She has served on numerous editorial boards of several international journals, including Cancer, Clinical Cancer Research, Head & Neck and The Laryngoscope. Dr. St. John has consistently been named one of America' s Top Doctors by the Castle Connolly Guide.
CWRU/UH ENT Alumni Lecture Series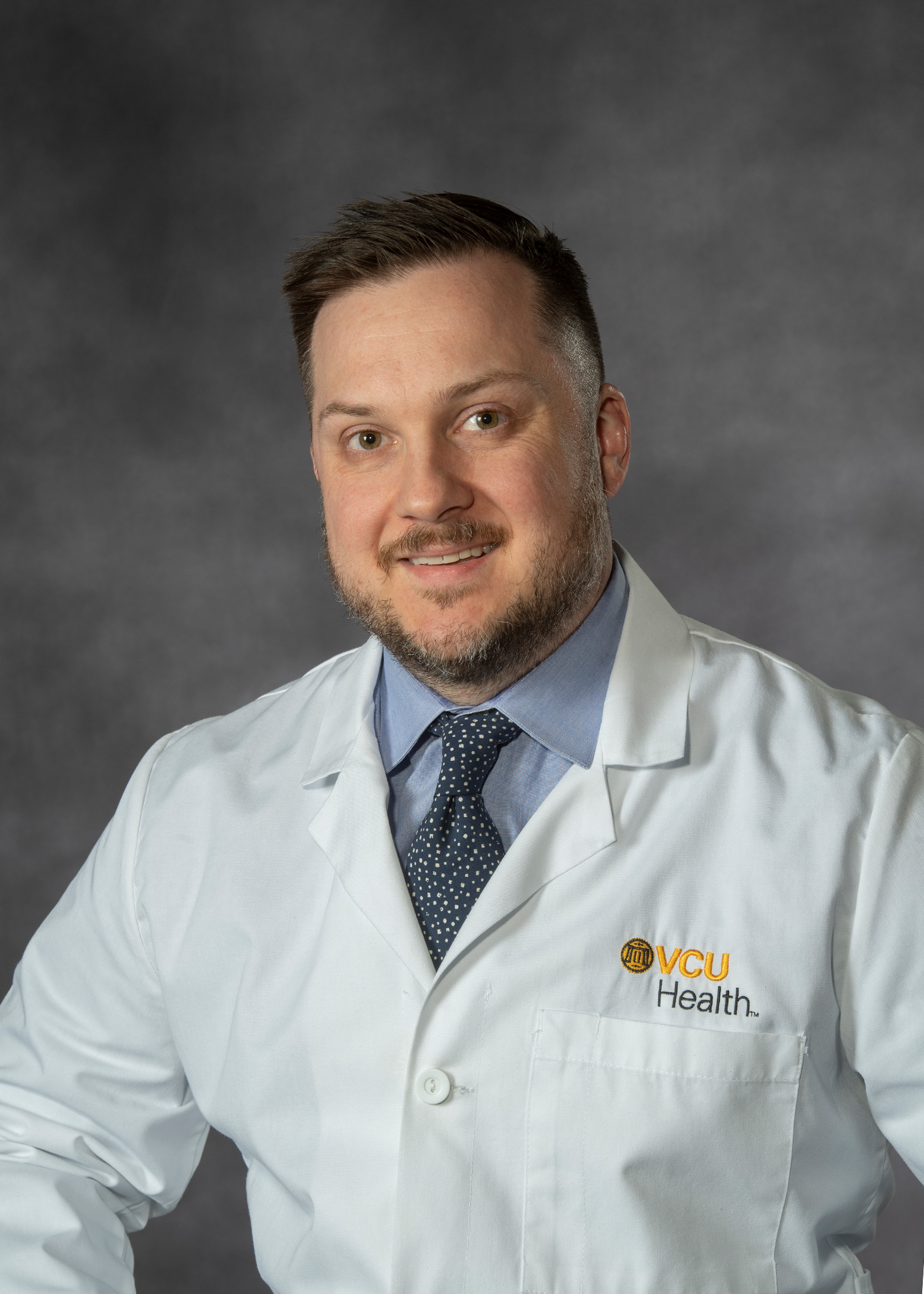 Ryan Nord, MD
Associate Professor
Department of Otolaryngology – Head & Neck Surgery
Virginia Commonwealth University 
Dr. Ryan Nord received his MD degree (2011) from Albert Einstein College of Medicine with a distinction in research in Otolaryngology. He completed his training in Otolaryngology—Head and Neck Surgery at University Hospitals at Case Western Reserve University in Cleveland, Ohio (2016). Dr. Nord is board certified in Otolaryngology—Head and Neck Surgery and currently Associate Professor of Otolaryngology and Director of Sleep Surgery at VCU Health in Richmond Virginia. His research interests include hypoglossal nerve stimulator outcomes and neurocognitive outcomes from sleep surgery.
Disclosure Policy
As an organization accredited by the ACCME, the Case Western Reserve University School of Medicine CME Program requires that the content of CME activities and related materials provide balance, independence, objectivity, and scientific rigor.  All faculty, planners, and others in a position to control continuing medical education content are required to disclose all financial relationships with ineligible companies within the past 24 months regardless of the amount and their view of the relevance of the relationship to the education. Ineligible companies are organizations whose primary business is producing, marketing, selling, re-selling, or distributing healthcare products used by or on patients. Faculty (authors, presenters, speakers) are encouraged to provide a balanced view of therapeutic options by utilizing either generic names or other options available when utilizing trade names to ensure impartiality.
The Case Western Reserve University School of Medicine CME Program has implemented a mechanism to identify and resolve all conflicts of interest prior to the activity. The intent of this policy is to identify potential conflicts of interest so participants can form their own judgments with full disclosure of the facts. Participants are asked to evaluate whether the speaker's outside interests reflect a possible bias in the planning or presentation of the activity.