Douglas Rhee, MD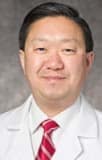 Dr. Douglas J. Rhee arrived to the University Hospitals Eye Institute in 2013 and serves as the Chair of the Department of Ophthalmology and Visual Sciences. He is a glaucoma specialist, molecular biologist, and board-certified ophthalmologist. Previously, he had served at the Massachusetts Eye & Ear Infirmary (MEEI), Children's Hospital Boston (CHB) and was an associate professor at Harvard Medical School. Prior to MEEI and CHB, Dr. Rhee was an attending physician at Wills Eye Hospital and was an assistant professor at Jefferson Medical College in both the departments of Ophthalmology and Pathology, Anatomy, and Cell Biology.
Dr. Rhee was born in Buffalo, New York and raised in Detroit, Michigan. After graduating valedictorian of his high school, he entered the combined pre-medical / medical program at the University of Michigan Medical School. After graduating in the top 10% of his class (Alpha Omega Alpha), he then finished an internship at the University of Michigan affiliated Oakwood Hospital (Dearborn, MI). Dr. Rhee completed his ophthalmology residency at Wills Eye Hospital where he also served as co-chief resident. He was awarded a competitive Heed Fellow award and completed a clinical glaucoma fellowship at Bascom Palmer Eye Institute and a post-doctoral laboratory fellowship at the National Eye Institute of the National Institutes of Health (Bethesda, MD) investigating the molecular biology of intraocular pressure regulation. Dr. Rhee was an attending physician on the glaucoma service of Wills Eye Hospital for four years, a clinical consultant of the National Eye Institute for 5 years, and Massachusetts Eye & Ear Infirmary for 8 years prior to coming to the UH Eye Institute.
Clinical Interests
Dr. Rhee cares for both adult and childhood glaucomas. He has an interest in complex and high-risk cases, rare clinical syndromes, as well as the more common forms of glaucoma. Some of Dr. Rhee's clinical research interests include the outcomes of both traditional and novel/advanced surgical procedures. Combining his research and personal experience with these procedures, Dr. Rhee is a surgical innovator and strives to optimally customize the treatment for an individual patient. He has introduced the surgical procedure, ab interno trabeculotomy (i.e. Trabectome), to New England in 2006. The trabectome is a less invasive approach to filtration surgery. Dr. Rhee has the longest experience with this procedure in the East Coast and Midwestern Regions. His research has helped to define its place in the surgical armamentarium for glaucoma. In 2013, Dr. Rhee introduced the iStent, a microstent that enhances aqueous humor drainage to lower eye pressure, to New England. Dr. Rhee is one of the few surgeons in the Midwest who also offers deep sclerectomy, an alternative to traditional glaucoma filtration surgery trabeculectomy. With the resources of the glaucoma service of UH/CMC, Dr. Rhee can offer the widest array of surgical procedures and implant devices (e.g. Baerveldt, Ahmed, Molteno, and ExPress drainage implants) available in the Midwest. Dr. Rhee was honored by Boston magazine as one of its "Best Doctors 2007-2008," and has been included in the Best Doctors (Boston, MA) since 2007.
Dr. Rhee has also contributed to our understanding of rare clinical syndromes, such as plateau iris, medication-induced (sulfonamide, corticosteroid, etc.), and idiopathic elevated episcleral venous pressure associated glaucoma. For example, Dr. Rhee discovered that plateau iris syndrome is a familial condition and described the autosomal dominant inheritance pattern in 50% of affected individuals. He was one of the first to describe the rare condition of bilateral acute angle closure glaucoma that can be caused by the medication topiramate; Dr. Rhee went on to describe the only effective treatment for severe cases of topiramate-induced angle closure.
At the UH Eye Institute, Dr. Rhee has received regional, national, and international referrals. Dr. Rhee sees patients at UH Eye Institute's main facility as well as our Landerbrook, Westlake, and Hudson satellites.
Other Notable Facts
Dr. Rhee has a long history of administrative service. While at Wills Eye Hospital, he served as the medical director of the Glaucoma Service Diagnostic Laboratory from 2004 through late 2005. He was awarded the Norman Knight Leadership Development Award in 2006 by Mass. Eye & Ear. In early 2007, Dr. Rhee began service as the medical director of the Mass Eye and Ear suburban centers in Stoneham and East Bridgewater, Mass. In 2008, Dr. Rhee's duties expanded to serve as medical director of strategic network development. In 2010, his responsibilities at Mass Eye & Ear expanded to become the Associate Chief of Practice Development and finally in 2011 to Associate Chief of Operations and Practice Development.
Dr. Rhee is a leading educator of ophthalmologists. He serves on various scientific or curriculum committees for the American Academy of Ophthalmology, National Institutes of Health, American Glaucoma Society, American Society of Cataract and Refractive Surgeons, and American Board of Ophthalmology (the certifying organization for ophthalmologists). In 2007, his contributions to the American Academy of Ophthalmology were recognized by the Achievement Award and in 2013 by the Senior Achievement Award. Dr. Rhee has organized and developed the curricula for numerous regional and national meetings for the continuing education of his colleague ophthalmologists. In 2013, Dr. Rhee was named the Chair of the Glaucoma Curriculum Committee for the American Society of Cataract and Refractive Surgery which oversees the glaucoma content for all ASCRS activities. Dr. Rhee participates in the teaching of glaucoma to medical students, residents, and fellows. He has been an invited speaker to over 190 meetings regionally, nationally, and internationally.
Dr. Rhee is an accomplished writer having co-authored the Wills Eye Drug Guide (first edition 1998, second edition 2001) and was the lead editor for the third edition of the Wills Eye Manual (2001). He authored the Ophthalmic Drug Guide (first edition 2007, second edition 2010). Dr. Rhee authored and edited Color Atlas & Synopsis of Clinical Ophthalmology: Glaucoma (first edition 2003, second edition 2012). His has served as a co-editor of the Shields' Textbook of Glaucoma (6th ed, 2011). Additionally, he contributed over 30 chapters to other textbooks whose target audience ranged from the general public, general medicine, comprehensive ophthalmologists, and glaucoma specialists. Dr. Rhee has served as a consultant for the Physician's Desk Reference for Ophthalmology since 1997 and has been the lead medical editor for this publication since 2002. He reviews for several ophthalmologic journals, and in 2006, Dr. Rhee began serving as a contributing editor for the trade publication Ocular Surgery News.
Patient Advocacy and Education
Dr. Rhee has served to advocate for patient safety issues at the legislative level. Dr. Rhee served as Vice President of the Massachusetts Society of Eye Physicians and Surgeons from 2009-2013 having testified before the Massachusetts House of Representatives. Aside from numerous citations in ophthalmology trade journals, Dr. Rhee has been interviewed for local newspapers, radio programs, and the Wall Street Journal.
---