Hank Chambers, MD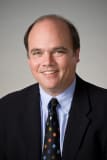 Bio
Dr. Henry Chambers directs the Southern California Cerebral Palsy Center at Rady Children's Hospital-San Diego, co-directs the 360 Sports Medicine program, and is a clinical professor at UC San Diego School of Medicine.
After graduating summa cum laude from the University of Colorado, Dr. Chambers attended Tulane University School of Medicine. He completed his residency at Brooke Army Medical Center, where he was honored for outstanding research, followed by a Rady Children's Hospital-San Diego/ UC San Diego fellowship in pediatric orthopedic surgery.
Dr. Chambers treats pediatric gait disorders, sports injuries and cerebral palsy. His research areas include cerebral palsy, motion analysis, and controlling spasticity with botulinum toxin.
Among his professional affiliations, Dr. Chambers is a member and former president of the American Academy for Cerebral Palsy and Developmental Medicine, as well as a fellow of the American Academy of Orthopaedic Surgeons.
Dr. Chambers actively supports children and adults with disabilities and has been on United Cerebral Palsy San Diego's board since 1992. When not practicing medicine, he enjoys travel and discovering new technologies.
---