Hesham Abboud, MD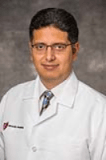 Bio
Hesham Abboud, MD, PhD is the Director of the Multiple Sclerosis and Neuroimmunology Program at University Hospitals Cleveland Medical Center and a staff neurologist in the Parkinson's & Movement Disorders Center. He is an Assistant Professor of Neurology at Case Western Reserve University School of Medicine.
Dr. Abboud is board-certified in neurology. His special interests include MS, NMO, autoimmune encephalitis, autoimmune movement disorders, spinal movement disorders, spasticity management, and neuromodulation.
Dr. Abboud earned his medical degree from Alexandria University in Egypt, where he also completed an internship and a residency in Neurology and Psychiatry. He obtained Master's and Doctorate degrees in Neurology from Alexandria University before joining the Cleveland Clinic, where he completed a residency in adult neurology, a clinical fellowship in movement disorders and neuromodulation, and a clinical fellowship in multiple sclerosis and neuroimmunology. He received special training in transverse myelitis and neuromyelitis optica at the Transverse Myelitis Center of Johns Hopkins University.
Dr. Abboud is invested in medical education. He was selected as the medical student liaison for Neurology clerkship at the Cleveland Clinic during his residency and was appointed as a clinical instructor of neurology at the Cleveland Clinic Lerner College of Medicine. He received the Trainee Teacher of Year Award and the Excellence in Teaching Award from the Cleveland Clinic in 2015.
Dr. Abboud has written several peer-reviewed articles, abstracts and book chapters in the fields of neuroimmunology and movement disorders. He has presented his research in many international and national conferences and has won several research awards and travel grants from professional societies such as the American Academy of Neurology, the American Committee for Treatment and Research in Multiple Sclerosis, the Consortium of Multiple Sclerosis Centers, and The International Movement Disorders Society. In addition, Dr. Abboud has served as a reviewer for a number of prominent medical journals including Neurology, the International Journal of MS Care, Multiple Sclerosis: ETC, The American Journal of Psychiatry, among others. He is a member of the American Academy of Neurology, The NMO International Clinical Consortium, the Autoimmune Encephalitis Alliance, and the Movement Disorder Society.
Board Certifications
American Board of Psychiatry and Neurology - Neurology
Education & Training
Medical / Professional School(s)
2002, Alexandria University Hospitals
Residency
2007, Neurology - Alexandria University Hospitals
2015, Neurology - Cleveland Clinic
Fellowship
2011, Movement Disorders - Cleveland Clinic
2016, Neuroimmunology - Cleveland Clinic
Expertise
Multiple Sclerosis, Neuromyelitis Optica (NMO), Acute Disseminated Encephalomyelitis (ADEM), Transverse Myelitis, Dystonia, Chorea, Tremor, Baclofen Pump, Spasticity, Neuroimmunology, Autoimmune Encephalitis, Botulinum Toxin Injections, Parkinsonism, Movement Disorders, Paraneoplastic Encephalitis, Myoclonus, Tics, Deep Brain Stimulation
Office Locations
UH Cleveland Medical Center
(216)844-3192
Department of Neurology
11100 Euclid Ave
Cleveland, OH 44106
Get Directions
---