James K. Stoller, MD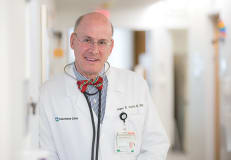 James K. Stoller, MD, MS, (Organizational Development), is the Chair of the Education Institute and holds the Jean Wall Bennett Professorship in Emphysema Research at the Cleveland Clinic Lerner College of Medicine and the Samson Global Leadership Academy Endowed Chair. He is an Adjunct Professor of Organizational Behavior at the Weatherhead School of Management at Case Western Reserve University.  From 2001 to 2005, he served as Associate Chief of Staff and served as Vice Chairman of Internal Medicine at the Cleveland Clinic through 2007. Dr. Stoller is a Diplomate in internal medicine, pulmonary disease, and critical care medicine of the American Board of Internal Medicine.
Dr. Stoller received a BA in biochemistry and English (magna cum laude) from Amherst College in Amherst, Mass. in 1975. He earned his medical degree from the Yale University School of Medicine in 1979 and completed his internship and residency in medicine at Peter Bent Brigham Hospital in Boston (1979-1982). After completing fellowships in Pulmonary/Critical Care Medicine at both Brigham and Women's Hospital in Boston and Yale University School of Medicine (1982-1985), he pursued a fellowship in Critical Care Medicine/Anesthesia at Massachusetts General Hospital in Boston, which he completed in 1986. Dr. Stoller also earned a Master's in Organizational Development and Analysis from the Weatherhead School of Management of Case Western Reserve University in 2001.
---