Mark L. Cohen, MD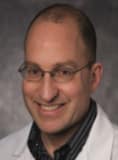 Biography
| | |
| --- | --- |
| 1979 | A.B., Biochemistry, Cornell University, College of Arts and Sciences, Ithaca, New York |
| 1983 | M.D., Cornell University Medical College, New York, New York |
| 1983-1984 | Residency, Internal Medicine |
| 1984-1988 | Residency, Anatomic and Clinical Pathology |
| 1988-1990 | Fellowship, Neuropathology, University Hospitals of Cleveland, Cleveland, Ohio |
| 1990-1997 | Assistant Professor of Pathology (Neuropathology), University Hospitals of Cleveland, Case Western Reserve University, Cleveland, Ohio |
| 1992-1997 | Assistant Professor of Neurology (Joint Appointment), University Hospitals of Cleveland, Cleveland, Ohio |
| 1993-1998 | Chief of Diagnostic Neuropathology, University Hospitals of Cleveland, Case Western Reserve University, Cleveland, Ohio |
| 1997-2003 | Associate Professor of Pathology (Neuropathology), University Hospitals of Cleveland, Case Western Reserve University, Cleveland, Ohio |
| 2003-present | Professor of Pathology (Neuropathology), University Hospitals of Cleveland, Case Western Reserve University, Cleveland, Ohio |
| 1998-present | Director, Division of Neuropathology, University Hospitals of Cleveland, Case Western Reserve University, Cleveland, Ohio |
Research
Neuropathology of Prion diseases, Gliomas, and Neuromuscular diseases
Publications
Chitravas N, Jung RS, Kofskey DM, Blevins JE, Gambetti P, Leigh RJ, Cohen ML. Treatable neurological disorders misdiagnosed as Creutzfeldt-Jakob disease. Ann Neurol. 2011 Sep;70(3):437-44.
Kim C, Haldiman T, Cohen Y, Chen W, Blevins J, Sy M-S, Cohen M, Safar JG. Protease-Sensitive Conformers in Broad Spectrum of Distinct PrPSc Structures in Sporadic Creutzfeldt-Jakob Disease Are Indicator of Progression Rate. PloS Pathogens 2011 Sep;7(9):e1002242
Pareek TK , Belkadi A, Kesavapany S, Zaremba A, Loh SL , Bai L, Cohen ML, Meyer C, Liby KT , Miller RH, Sporn MB, Letterio JJ. Triterpenoid suppression of IL17 and induction of the Nrf2 anti-oxidant response is protective in murine autoimmune encephalomyelitis. (Nature Scientific Reports doi:10.1038/srep00201 19 December 2011
Hamlin C, Puoti G, Berri S, Sting E, Zamayla F, Xiao J, Harris C, Cohen M, Debanne S, Rowland DY. A Comparison of Tau and 14-3-3 protein in the diagnosis of Creutzfeldt-Jakob disease. Neurology 79: 547–552, 2012
Mehndiratta P, Manjila S, Ostergard T, Cohen ML, Sila C, Selman W. Cerebral amyloid angiopathy–associated intracerebral hemorrhage: pathology and management. Neurosurg Focus 32 (4):E7, 2012
Mehndiratta P, Mehta S, Manjila SV, Kammer GM, Cohen ML, Preston DC. Isolated necrotizing myopathy associated with ANTI-PL12 antibody. Muscle Nerve. 2012 Aug;46(2):282-6.
Parchi P, de Boni L, Saverioni D, Cohen ML, Ferrer I, Gambetti P, Gelpi E, Giaccone G, Hauw J, Höftberger R, Ironside JW, Jansen C, Kovacs GG, Rozemuller A, Seilhean D, Tagliavini F, Giese A, Kretzschmar HA. Human prion disease histotype classification allows reliable identification of molecular subtypes: An inter-rater study among surveillance centres in Europe and USA. (Acta Neuropathologica, in press)
Kim C, Haldiman T, Surewicz K, Cohen Y, Chen W, et al. (2012) Small Protease Sensitive Oligomers of PrPSc in Distinct Human Prions Determine Conversion Rate of PrPC. PLoS Pathog 8(8): e1002835. doi:10.1371/journal.ppat.1002835
---