Mehdi Shishehbor, DO, MPH, PhD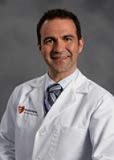 Dr. Mehdi H. Shishehbor, DO, MPH, PhD, joined University Hospitals Harrington Heart & Vascular Institute in August 2017 as Co-Chair of the Clinical Executive Committee, Director of the Cardiovascular Interventional Center, and Co-Director of the Vascular Center. His area of expertise includes vascular medicine and minimally invasive, catheter-based procedures such as angioplasty, stent grafts, stenting, atherectomy and intravascular ultrasound to treat coronary, carotid, abdominal aortic aneurysms, and peripheral arterial and venous diseases. He is an expert on minimally invasive approaches to reconstruct lower extremity arteries in order to treat critical limb ischemia and prevent amputation. His work in this area has been recognized locally, nationally and internationally. Prior to joining University Hospitals, Dr. Shishehbor directed the Endovascular Program at the Cleveland Clinic from 2009 to May 2017 and trained over 40 interventional fellows and over 400 physicians nationally on advanced techniques for limb salvage.
Dr. Shishehbor earned his undergraduate degree in chemistry at Florida International University, Miami, followed by a Doctor of Osteopathy (DO) from Nova Southeastern University in Fort Lauderdale, Fla. He completed a Master's degree in public health at Cleveland State University in 2004 and a doctorate in epidemiology at Case Western Reserve University in 2013.
Following completion of his DO degree, Dr. Shishehbor completed a one-year traditional internship at the Palmetto General Hospital in Hialeah, Fla. He became a resident in internal medicine in 2000 at Cleveland Clinic and was the first internal medicine resident to be granted the Crile Fellowship Award to support a year of basic research in the laboratory of Stanley Hazen, MD, PhD.
Dr. Shishehbor became a clinical fellow in cardiovascular medicine in 2004 and in interventional cardiology in 2007. After completing his interventional cardiology fellowship, Dr. Shishehbor was awarded a sabbatical to train in carotid and aortic endovascular therapy under the mentorship of Bruce Gray, DO, of Greenville, S.C., and Michael Bacharach, MD, with the North Central Heart Institute, Sioux Falls, S.D.
Pursuing his interest in the epidemiology and treatment of cardiovascular disease, Dr. Shishehbor became the first Cleveland Clinic fellow to be awarded the National Institutes of Health KL-2 award. As a National Institutes of Health scholar, Dr. Shishehbor had a joint appointment at Case Western Reserve University and Cleveland Clinic. He is a respected researcher in cardiovascular medicine and has won a number of awards at international and national meetings, including being a research finalist at the American College of Cardiology and the American Heart Association Young Investigator Award competitions. In 2008 he was named the winner of the prestigious Thomas J. Linnemeier Spirit of Interventional Cardiology Young Investigator award and in 2009 he was awarded the VIVA/LINC Young Leader's Award in Vascular. Currently, he serves as the Co-Chair of the PVD Council for SCAI and as a member of PVD council for the ACC. He was the writing member of 2017 ACC/AHA/SCAI/SVS/SIR Guidelines for Lower Extremity Peripheral Artery Disease and a member of the Appropriate Use Criteria (AUC) committee for renal and peripheral intervention for SCAI in 2017.
Dr. Shishehbor is widely published on cardiovascular epidemiology, interventional cardiology outcomes, and techniques in leading journals such as the Journal of American Medical Association, New England Journal of Medicine, and Journal of the American College of Cardiology and Circulation. He also is the author of a number of editorials, textbook chapters, co-author of a book on coronary intensive care and cardiac catheterization and a manuscript reviewer for several prestigious medical publications, including the Journal of the American Medical Association, Journal of the American College of Cardiology, American Journal of Cardiology, and Archives of Internal Medicine.
As a leader in CLI and limb salvage education he served as the chair of the Masters' Approach to Critical Limb Ischemia (MAC) Symposium in 2016. Dr. Shishehbor now serves as a Course Director of the Cardiovascular Innovations Conference in Denver.
Dr. Shishehbor's research interests include clinical outcomes in interventional cardiology, carotid and endovascular interventions. He has a special interest in novel minimally invasive percutaneous approaches to treat cardiac, venous and arterial diseases and has worked with a number of startup companies and early stage devices. An area of intense work has been around perfusion assessment in CLI. He currently has four ongoing prospective studies to evaluate novel perfusion devices in CLI. Additionally he is currently serving as the national principal investigator for five randomized trials related to vascular disease.
He is board certified in internal medicine, cardiovascular medicine, interventional cardiology, vascular medicine, and endovascular/carotid intervention. Dr. Shishehbor is highly involved in family life with his wife and his two children. He was born in Iran, and his wife is from Colombia. He speaks Persian (Farsi) and conversational Spanish. He enjoys cooking, soccer and Persian poetry.

Board Certifications
American Board of Internal Medicine - Cardiovascular Disease
American Board of Internal Medicine - Interventional Cardiology

Education & Training
Undergraduate
1995, Florida International University

Medical / Professional School(s)
1999, Nova Southeastern University College of Osteopathic Medicine

Internship
2000, Rotator - Palmetto General Hospital

Residency
2002, Internal Medicine - Cleveland Clinic
2004, Internal Medicine - Cleveland Clinic

Fellowship
2007, Cardiovascular Medicine - Cleveland Clinic
2009, Endovascular Surgery - Avera McKennan Hospital and University Health Center
2009, Endovascular Surgery - Greenville Hospital System - Greenville Memorial Hospital
2009, Interventional Cardiology - Cleveland Clinic

Research Fellowship
2003, Cleveland Clinic
---