Nicholas C. Bambakidis, MD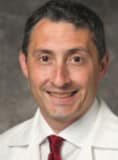 Bio
Nicholas C. Bambakidis, MD, is a pediatric neurosurgeon at University Hospitals Rainbow Babies & Children's Hospital UH Ahuja Medical Center and Director, Cerebrovascular and Skull Base Surgery, University Hospitals Neurological Institute, UH Cleveland Medical Center. He also sees patients at UH Twinsburg Health Center. He is Vice Chairman, Clinical Affairs and Professor in the departments of Neurological Surgery and Radiology at Case Western Reserve University School of Medicine.
Dr. Bambakidis is board certified in neurological surgery. His special interests include cerebrovascular surgery, cervical spine surgery, endovascular surgery, neuro-oncology and skull base surgery.
He graduated magna cum laude with a bachelor's degree in physics from Wright State University, Dayton, Ohio. He earned his medical degree from Case Western Reserve University School of Medicine where he was inducted into Alpha Omega Alpha Honor Medical Society. Dr. Bambakidis served his neurosurgery residency at UH Cleveland Medical Center, followed by fellowships in spinal neurosurgery and skull base and cerebrovascular surgery at Barrow Neurological Institute, Phoenix, Ariz.
After completing his fellowships, Dr. Bambakidis served as Assistant Professor of Clinical Neurosurgery at the University of Arizona School of Medicine and an attending neurosurgeon at Barrow Neurological Institute for three years. He came to UH Cleveland Medical Center in 2008 as a fellow in endovascular neurointerventional surgery and was named to the UH staff in 2011.
A dedicated researcher as well as a clinician, Dr. Bambakidis currently is an investigator on several multicenter clinical trials related to advanced neurosurgical techniques and technology and is a co-investigator on the Ohio Brain Tumor Study. He has presented at numerous national and international neurosurgery conferences, speaking on topics such as challenging neurosurgical cases, management of brain tumors and new skull base surgery techniques.
Dr. Bambakidis has authored or coauthored more than 50 papers and half-a-dozen invited reviews and editorials in peer-reviewed journals and has contributed chapters to more than a dozen neurosurgical textbooks. He is a reviewer on six leading journals in neurosurgery.
His numerous professional memberships include the Society of Neurointerventional Surgery, Society of Neurological Surgeons, American Association of Neurological Surgeons and Congress of Neurological Surgeons.
Honors and Achievements
Basic Science Research Award, Ohio State Neurosurgical Association, 2004
Teacher of the Year, Barrow Neurological Institute, Division of Neurosurgery, 2007-2008
Teacher of the Year, St. Joseph's Hospital and Medical Center, Phoenix, Ariz., 2007-2008
Anspach Research Award in Cerebral Protection/Cerebral Ischemia, 2009 – 2010
Alpha Omega Alpha Honor Medical Society
Research Interests
Cerebrovascular stroke disorders
Brain tumor biology
Skull base surgery
---