Sanjay Rajagopalan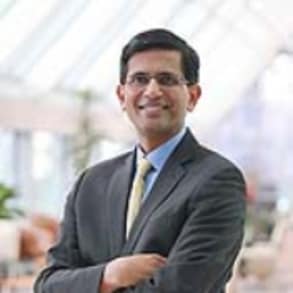 University Hospitals Cleveland Medical Center and UH Harrington Heart & Vascular Institute have named Dr. Sanjay Rajagopalan the chief of the Division of Cardiovascular Medicine.
"We are incredibly pleased to welcome Dr. Rajagopalan to University Hospitals and the Harrington Heart & Vascular Institute," said Dr. Dan Simon, president of UH Cleveland Medical Center, in a statement. "His vast expertise in the field of cardiovascular imaging coupled with his leadership skillset will translate into continued excellence in the division and further advancement of our mission."
Rajagopalan has nearly three decades of experience leading translational research at academic medical centers, according to a news release. He is known for his work with cardiovascular magnetic resonance imaging and his research of cholesterol, air pollution and other environmental factors on lung, heart and vascular diseases, according to the release.
Previously, he served as co-director of the Heart Center and professor of medicine at the University of Maryland since 2013.
"Dr. Rajagopalan's arrival is a major step toward achieving our vision to be the most trusted, integrated academic heart and vascular institute that anchors a healthy community and defines the future of medicine," said Dr. Marco Costa, president of the UH Harrington Heart and Vascular Institute, in a statement.
Rajagopalan earned his medical degree at the University of Madras, India. He completed his internal medicine residency at State University of New York – Buffalo and his cardiology research fellowship at Emory University.
He is a fellow of the American College of Cardiology, Society of Vascular Medicine and Biology, Society of Cardiovascular Magnetic Resonance and the American Society for Clinical Investigation, according to the release. He also is on the editorial boards for the Journal of American College of Cardiology: Imaging and the Journal of Clinical Lipidology.
---